Now Available! Dr. DeFoore's New Book GOODFINDING
Great Anger Stories
By Visitors Just Like You
Authored by William G. DeFoore, Ph.D.

There are some great anger stories on this site, and here is your chance to see some of the best ones in one place!
Let this inspire you! The more you contribute, the more you receive. 

Research by Dr. James Pennebaker of the University of Texas in Austin has shown that writing your story can be very healing, emotionally and even physically.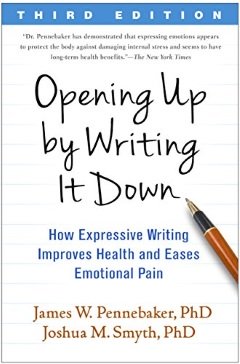 Try it, and see if you don't feel better as a result.
Free and easy mental and emotional health benefits--that's the value you get from simply writing your story or asking your question.
You can do this, and when you do, you will discover the ability you have to help yourself simply by telling your story.
Here are some steps you can take for writing your story:
Focus on your feelings. Don't hold back in giving full expression to your deepest and strongest emotions.
Write this for yourself only. That way you don't have to worry about how anybody else might react. If you choose to share it with someone later, that's another matter, but for now just do it for yourself.
Don't try to be fair or kind to others while you're writing, as that will only water down your emotions and keep you from getting the full release you're looking for. If you feel a need to write about others involved, you can do that separately.
Write until you feel you have told the whole story. You'll know when you're done when you just run out of things to say.
There's quite a bit more to this, which you can explore by reading Opening Up: The Healing Power Of Expressing Emotions by Dr. James Pennebaker.



Submit Your Anger Stories


Now, it's time for us to see your anger stories. Just fill out the form below, and you'll be on your way!
Be sure and include the following:
As much detail as possible
Helpful background information
What your specific question or point is
Not ready to submit your own story or question yet? No problem...just get started reading the stories by other good folks like you who want to get better at managing their anger.
Why should you decide to tell your story here? Because you are your own best anger management resource!
Interested in more? Learn about the stories you tell yourself that might arouse your anger.


Have A Great Story Or Question
About Anger Management?


Whether it's shocking, funny or infuriating, we'd like to hear your stories and questions about anger management.

You have questions or stories to tell, or you wouldn't be on this site. If you'd like some help, you can get help here. You may feel helped just by writing!

Also, other visitors might be able to help with their comments, stories and questions. Sometimes I (Dr. DeFoore here) offer comments, and I try to answer most of the questions.

Feel free to also review our FAQ page (frequently asked questions), to see if your question has already been answered.
Other Visitors' Stories And Questions
Click below to see contributions from other visitors to this page...