Take This Quick Anger Test
Find Out If You Need Anger Management
Here's an anger test with a list of questions that will help you decide if you need anger management help.
A lot of people have anger issues and don't think they do,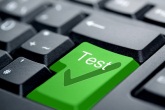 and a few think they do and actually don't have any serious anger problems.
And don't worry, this is a do-it-yourself test, and you get to decide what action you take when you're done. You won't get a hard sell on some product "you have to have," although several products and services will be recommended--you get to pick.
Remember, you've got the good heart and courage it takes to reach your anger management goals.
---

Testimonial

"Dr. DeFoore is truly a master within his profession. He is capable of moving mountains with his unique brand of uncommon common sense. If you are passionate about making progress, Bill will work with you to make your dreams come true."

- David Roberts, D.D.S.
This anger test will give you an idea of how bad (or how mild) your anger is. Here is a list of the questions you will answer:
Are you someone who "never gets angry?"
Do other people think you're angry?
Are you critical of other people in your mind and thoughts?
Do you criticize and/or use insults when you speak to others?
Do you frequently lose patience with people or situations?
Do you have a hard time putting yourself in another person's shoes during a disagreement?
Do you sometimes yell or raise your voice to get your point across?
Do you find yourself frequently in arguments?
Do you think about acts of aggression or violence?
Have you ever been physically aggressive or violent with another person?
Have you ever been arrested or had the police called because of your actions?
Have you ever been reported for domestic violence?
Do you take out your frustrations while driving?
Do you find yourself unable to let go of grievances and resentments?
Do you replay negative experiences over and over in your mind?
Do you often think that other people are a bunch of idiots?
Does it seem to you like other people "just don't get it?"
Do you think about getting revenge on others?
Do you sometimes forget what you said or did while you're angry?
Do you find yourself getting angry in any kind of regular, predictable or cyclical pattern?
---
RESULTS: You will get more detailed results when you take the online quiz above, but here's an idea of the different results:
---
Want a more extensive assessment of your anger than what you got from this anger test? Take our advanced anger test, where you'll learn about escalation patterns and overall severity of your anger.
If your anger episodes seem to keep occurring over and over again, you might be experiencing anger addiction or another type of serious anger problem.


Take This Action Now!

More Great Pages To Visit
Anger Management Tests: Get an overview of anger management tests and what they have to offer you. There are two primary types of quizzes you can take, including the anger test on this page. These will help you understand not only where you stand with your anger, they will help you assess your escalation level and point you toward solutions.
Depression Test: Have you ever wondered if you might be depressed? Here's your chance to find out. Take the quick and easy-to-follow quiz, and you'll get an assessment and recommendations about how to feel better more of the time.
Nonverbal Communication: Communication is 93% nonverbal, according to communications research. Become aware of the nonverbal messages you are sending, and you will be much more successful in handling your own anger and the anger of others.
Generalized Anxiety Disorder: Another problem that often goes along with anger is anxiety. Find out if this applies to you or someone close to you, and how you can begin taking action right now to correct it...without medication, or in addition to the medication you may already be taking.
How To Deal With Insults: Whether you're dishing them out, or on the receiving end, you need to know how to deal with insults. Improve your relationships and self esteem by taking care of this in a powerful and healthy way.


Have A Great Story Or Question
About Anger Management?


Whether it's shocking, funny or infuriating, we'd like to hear your stories and questions about anger management.

You have questions or stories to tell, or you wouldn't be on this site. If you'd like some help, you can get help here. You may feel helped just by writing!

Also, other visitors might be able to help with their comments, stories and questions. Sometimes I (Dr. DeFoore here) offer comments, and I try to answer most of the questions.

Feel free to also review our FAQ page (frequently asked questions), to see if your question has already been answered.
Other Visitors' Stories And Questions
Click below to see contributions from other visitors to this page...

I Need Some Advice After Being Separated From My Family Not rated yet
I loved your site first of all. But I have a problem that I need resolved. I have this roommate who has been with us for 15 months. She was only suppose...
I've Been Angry All My Life After Being Rejected And Abandoned As A Child Not rated yet
Hi, I'm Shay. I'm one of those types that gets angry every minute of the day. There's not a time in each day that I'm never angry. Sometimes when I get...
I Am So Confused, Living With My Family Of Love And Hate Not rated yet
I grew up in a family with a lot of hate and love. I don't know which one is more. My parents' marriage is not a marriage anymore (maybe because it's so...
Who Are You? Not rated yet
My husband and I have been married for about two years now. I love him very much . But sometimes, I don't know him as well as I thought. My husband has...
My Boyfriend's Anger Scares Me Not rated yet
We have been together on and off for 7 years and have a 4 year old son. We are no longer living together as I couldn't cope with his moods/anger/depression....
The Pain In My Life Not rated yet
I guess you can say I've been angry for a long time. I guess it started when I was 5 years old and my mother used to tell me and my sisters that my father...
There's No Place Like Home.... Not rated yet
I live in a small town where the only thing that passes for road rage is having the misfortune of finding yourself stuck on the road behind a tractor hauling...
At Least My Cat Loves Me Not rated yet
This morning, my cat crapped in my chair again. I know he can't help it, because I'm the one who messed up his stomach without really realizing what I...
Learning From Friends' Anger Not rated yet
I know two people that are perfect examples of the need for anger management. The first friend has a strong tendency for road rage. I noticed the road...