Now Available! Dr. DeFoore's New Book GOODFINDING
The Depression Test
That Gives You Hope


Authored by William G. DeFoore, Ph.D.


This depression test is designed to help you learn what causes depression (where it starts), the symptoms of depression (the results), and how to heal. 

You or someone you love is depressed, and that's why you're here. Learn to use your brilliant mind to understand and heal your depression.
You will feel hopeful after learning about the signs of depression in this test, followed by practical steps you can begin taking right now to feel better.
Tell your story or ask your question about depression and get some help. It has been shown in research studies that simply writing about your feelings can help you tremendously!

Take The Depression Test Now



Dr. DeFoore's Viewpoint


I am not a medical doctor. I am a Licensed Professional Counselor, with a Masters Degree in Clinical Psychology and a Ph.D. in Counselor Education. I have over 40 years of experience in helping people deal with causes and symptoms of depression and other related problems. I designed this depression test on the basis of my professional training and experience.
I do not subscribe to the "chemical imbalance" theory about depression. My research, education and experience has taught me that our brain chemistry changes in response to a wide variety of fluctuating factors, such as diet, age, abuse history, mood, and current environmental stressors. The "chemical imbalance" theory about depression assumes a permanent condition from birth to death, and I am aware of no research that actually proves that such a phenomenon exists.
I have worked with thousands of clients who were taking or had taken antidepressant medication. These medications treat the symptoms of depression (such as those you saw in the above depression test). Antidepressants do not get to what actually causes depression.
I believe that some people are definitely more inclined toward depression than others. To me, that does not say that they cannot heal, or that they will need medication for the rest of their lives.
In my work as a counselor and on this site, I help people heal what causes depression.
Preview the Audio CD program below, where you will hear me talking about this important topic.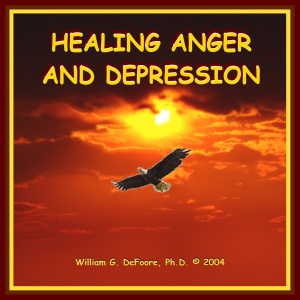 HEALING ANGER AND DEPRESSION:
Removing Barriers to Health and Happiness

These two anger management CDs help you to understand anger and depression and how they affect your health and your overall happiness.
You will also learn powerful tools for healing your anger issues, overcoming your depression symptoms and expressing all of your emotions in healthy ways. Listen to a free preview below!

Listen To Previews Now!


What Causes Depression & What To Do Right Now


From my experience as a professional, this is what I think causes depression: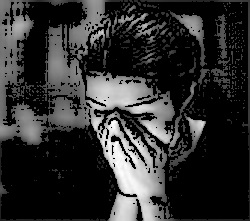 Ongoing marriage conflict or difficulty. Your marriage is one of the most powerful emotional influences on your life, and when you have tried everything and nothing gets better, it is all too easy to get depressed. Learn about dealing with anger and disappointment in marriage and how to create sacred roles in marriage.
Serious health problems. One of the most common things that causes depression is prolonged illness or injuries with long recovery periods. The thing to be aware of here if that depression can make the illness worse, because depression depletes immune function and slows down the healing process. Sometimes, healthy anger can be the key to breaking out of this cycle.
Other patterns that can cause you to show the signs of depression we have discussed on our depression test are:
I hope you got some help from this depression test. Remember the saying, "Everyone needs someone to love, something to do, and something to look forward to"? This is so true. Make sure you have all three of those in place, and that will do wonders for healing and preventing depression.
Take another excellent depression test at DepressedTest.com, or learn more about depression types and symptoms. 
Have A Story Or Question About Depression?
Do you have a story or question about this? Share it here!
What Other Visitors Have Said
Click below to see contributions from other visitors to this page...