Your Anger Management Resource
To Heal The Pain And Return To Love
You are your best anger management resource for the results you want. I will help you to use the strength and goodness inside you to reach your goals.
Your good heart is your best resource for healing, and it took courage for you to get to this point--ready to face your issues head-on. You can do this, and the help you need is right here.
This is an interactive site, where you can get involved by reading others' stories and telling your own. There are a lot of other good folks just like you, looking for help to make their life better.
Did you know that the Spanish word "coraje" means both "courage" and "anger?" As a matter of fact, the "cour" in "courage" means "heart." Transform your anger into courage--and that's how you learn to use your good heart as your best anger management resource for healing and recovery.
One of the things you will learn on this site is how your mental focus is a big part of your anger problems. You will learn tools that will help you form the habit of focusing on the good things in your life, which will automatically make you less angry.


Here is a brief overview to get you started:
I know, you want relief from the pain and the total frustration, fury, rage or maybe panic that you are feeling. And when you feel the relief, you want to return to the love where it all started, so that you don't end up in the same boat over and over again.
Okay, here goes:
You heal the pain of your anger by...
Being smart enough to take the action of checking out this web site.
Realizing you are not alone with your problem.
Reading and trying the tips and techniques you will find on this site.
Consider that you are a good person in spite of your problems--that you are in fact your own best anger management resource.


And you return to the love by...
Making up your mind to heal your anger and the emotional pain behind it, developing self love, which is the beginning place of all love.
Transforming your anger into passion--what you love--and using that passion to create the life you choose for yourself.
Learning good communication skills so that you can manage your emotions and have healthy, happy relationships.
Reading and listening to excellent audio programs to take you to the next level of emotional wellness and a happy life.
Signing up for an anger management program or getting counseling to get you back in touch with the love in your good heart.
And yes, you do have a good heart.
Regardless of how you may be feeling or what you've done,
there is goodness inside you
. That's where the love comes from.
Sure, you or someone close to you is needing some anger control, or you wouldn't be on this web site. And fortunately, you've come to the right place for the anger management help you, your family and/or co-workers need.
You might be angry, furious, frustrated, afraid, depressed or confused, but the knowledge and skills you need are right here at your fingertips.
Keep that glimmer of hope alive. Never underestimate the power of believing in yourself and the goodness of your heart.

Being angry doesn't make you a bad person...
You just haven't learned how to manage these powerful feelings yet--but you will!.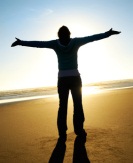 Stay connected with your good heart even when you're angry by developing effective anger management techniques. Yes, it is possible, and yes, you can do it.
Guess what--there is even an upside of anger, and when you master the art and skill of dealing with your emotions, it will become healthy. Healthy anger? What's that? Healthy anger is powerful energy fueling effective action--who wouldn't want some more of that?
I'm Dr. William DeFoore, and I have over 38 years of experience as a professional counselor, author and speaker on anger management and healthy anger. I believe in the unlimited capacity of each human being to overcome their problems and reach all of their goals. That's why I believe that you are your best possible anger management resource.
OK, let's get started. Follow the links on this page to the anger management resource you're looking for. No problem is too big for you to overcome. You can do this!