Adolescent Anger Management
Methods and Techniques for Teens, Parents and Caregivers
---
This page on adolescent anger management is for parents, teachers, counselors and all caregivers who want to help teens with anger issues.

You will learn to understand, empathize and respond in a helpful manner to the frustrated and angry adolescents in your life. These are not bad kids, they're just having problems with their anger.

And they're having those problems for very good reasons. It's your job to find out what those reasons are, so you can help them.

Here are some of the resources you will find here:

Specific skills for adults to learn in parenting teenagers with anger management problems.


How adolescent rites of passage events can help the adolescents in your life to transition into adulthood.


The importance of empathy, respect and understanding in communication.


The all-important significance of the role modeling you provide as an adult, regarding your anger management.

I congratulate you for caring enough to be here, and for your willingness to learn and grow.



---





Testimonial

"The Anger In Teens download is very informative. Peace is slowly returning to our household."

- Christine S.




---
Now let's get right to it. Start by watching this adolescent anger management video of Dr. DeFoore speaking at Cooper Aerobics Center in Dallas.
I hope you enjoyed that adolescent anger management video. Please contact us if you would like to have Dr. DeFoore speak to your school, church or organization.
---
Are you a teen with anger questions?

Jump to this page that is just for you!
---
Here are some adolescent anger management techniques that you can use immediately:
What to say
A good thing to say to an angry girl or angry boy is,"Hey, I can see you're angry, and I know you've got good reasons to feel that way. Help me understand what's going on, if you can. I just want to make sure you get what you need here, without you or anybody else getting hurt." The message you're sending is that you don't condemn or judge them for their anger, you're just trying to keep everybody safe. This is the basis of any good approach to adolescent anger management.
Make sure you hear what they're saying. The best way to do that is with active listening or reflective listening. Here's how it works: After they've had their say (wait until they're taking a pause) say something like,"Okay, what I'm hearing you say is..." or "So I think you're saying..." then repeat back to them exactly what they just said. Try to use their own words, with little or no interpretation of your own. You want to make this about them, not about you. This has to be done with total respect, if you want it to be effective. Any sarcasm or frustration from you will sabotage your efforts to provide good adolescent anger management.
Show empathy. This is where you try to get out of your own emotions for a minute, and look at things from the angry teen's viewpoint. You may not realize it, but this is a key ingredient in tough love. You'll want to say things like, "When I look at this from your perspective," or "From your viewpoint, I guess it seems like ..." Also offer validation if you can with statements like, "I get what you're saying" or "I think I can see where you're coming from." You do this whether you agree with or like what they're saying. This is not about agreeing or being right, it's about forming a connection so that you can help. Your efforts at adolescent anger management will not work without empathy and understanding.
Don't tell them what to do or lecture them about what you think they ought to be doing. As you get better with your adolescent anger management skills such as reflective listening and empathy, the teen you're working with will calm down enough to listen once in a while. In other words, they won't be able or willing to hear you until they feel that you've heard and understood them. Watch their eyes, and you'll know when they're listening, and when you've lost them. Stop talking when you lose them, and go back to the empathy and putting yourself in their shoes. Parental discipline does not belong in this part of adolescent anger management. This is a time for connection. Once you understand each other, then you can talk about consequences for their behavior, if that is needed. You want them to understand that you are putting consequences on their teen behavior, not their emotions or thought processes.
What you need to do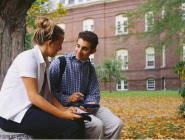 Listen, and really hear what your teen is saying. This lets them know that you really care about them, and what they're going through. If they get the feeling you're all about controlling them and having the power, they will either shut down or fight you all the way. Remember, if they feel heard by you, they'll be more likely to hear you. Teen anger management has a lot more to do with emotion and nonverbal communication than anything else. Kids who get involved in school violence and teen violence are usually not talking to their parents. You could actually be saving lives here.
Claim authority. If you're not in charge, the adolescent will probably try to take over, and that's never good. Good parenting skills require that you feel comfortable and confident in your authority and power. If you give more power to teens than they need, they'll take it anyway, and it will hurt them. Adolescents feel much more relaxed and secure when their parents are clear and firm in their authoritative role as parents. It's actually scary for teens to have more power than they're supposed to.
If you're scared of your kid, you need some support from a friend, family member or professional. Hopefully you will never have to call the police, but sometimes that is exactly what is needed. Of all of the adolescent anger management strategies, this is the most extreme.
What your teen can do
All of these techniques are excellent for building self-esteem and self confidence, which is one of the most important gifts you can offer the teens in your life! Also get these anger tips for teens.
---
Other Web Pages Related To Adolescent Anger Management
Parenting Skills: Learn and master the specific parenting skills you need to manage and help the angry adolescents in your life.
Bullying: It's all here. Help for parents, teachers, victims and bullies. Don't let this problem get the best of you--give your best to solving it.
Teenagers And Stress: Here you will look at causes and solutions for teenagers and stress. This problem can often lead to anger issues, so here's your chance to take preventive action.
Have A Story Or A Question
About Teen Anger?
Do you have a story you'd like to tell about this? Or a question you'd like to ask? Let's hear it! Give as much detail as you can. I (Dr. DeFoore) will answer your question for you, and my response will be a part of the page for you and others to read.

Feel free to also review our FAQ page (frequently asked questions), to see if your question has already been answered.
What Other Visitors Have Said
Click below to see contributions from other visitors to this page...

I Feel Psycho

Hello. Um, so my boyfriend and I have been dating for about 16 months now. And we met at a friend's house and ended up hooking up that night and hanging...
About To Quit

I am almost to tears even before I have begun. I have been with my boyfriend for four years, and he has always been very aggressive, very explosive and...
I May Have Screwed Up My Relationship Not rated yet
Okay, so I have had a bad temper for a lot of my life, the sort where you get extremely angry for very little things. But for about 4 years it has been...
My 12 Year Old Son's Anger Not rated yet
My son, 12 years old, has always been a bit anxious, and quick to get frustrated/angry. He is a great student with high honors, sociable with good and...
Why Did I Lose Control So Unexpectedly? Not rated yet
A little history on my situation: I don't come from a background of violence or fighting, I personally rarely even get mad, my blood pressure is fine,...