Now Available! Dr. DeFoore's New Book GOODFINDING
How To Deal With Angry People
So You Never Have To Worry About It Again
Authored by William G. DeFoore, Ph.D.

Angry people can be hard to handle and even dangerous, and you're not sure what they're going to do next. They can be abusive and extremely difficult to live with or work with.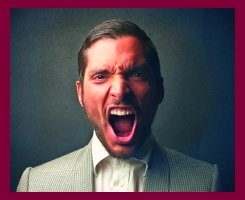 That doesn't mean they are bad through and through, it just means you better know how to take care of yourself when you're dealing with them.

The angry man or woman in your life might even be someone you love, or you may be the one who's angry. The main thing to remember is that anger is a natural, healthy emotion that most people don't know how to handle very well.
You will learn all about healthy anger and how to express it in healthy ways, on this web site.
You will feel better about yourself and other people as well, after using the resources of this web site. Give yourself the gift of understanding, by reading this page and following the recommendations.

What Do You Mean By "Angry People?"


Good question! Here are some answers:
They're going to point the finger at you (or others), blaming whoever they can for their problems, not taking responsibility for what they're doing.

They accuse, attack, criticize and judge you and others--all of these are examples of 

verbal abuse

.

They may be abusive in their language, with name-calling, cursing, and cruel comments.

They usually have bad relationships with the people closest to them.

Oh, yeah...they tend to raise their voice, yell, throw things and sometimes become physically violent.
We could go on, of course, but I think that gives us a good overview of angry people.
If you see yourself in the above description, you need some anger management help of your own! Don't even bother trying to "fix" somebody else until you have taken responsibility for your part. Managing your own anger is an essential part of dealing with abusive relationships.



How Did They Get That Way?


What happens in a person's life that makes them so angry? Here's a short list--(for more indepth information, go here):
Neglect, abandonment and abuse--these are almost always in the personal history of angry people. This does not excuse their bad behavior, but it helps you to understand how they got that way.
Unresolved grief--many times I've been working with an angry man or woman in an abusive relationship, and found that underneath their anger was tremendous unresolved grief and sorrow.
Being the "golden boy" or highly favored in your background. When you're treated as if you're special, given extra privileges, and generally favored by comparison to others, this will lead to a feeling of entitlement, which can lead to very angry, abusive behavior in some cases.
If you are victimized with any kind of regularity, this can cause powerful resentment and anger. This is no excuse for destructive behavior, it simply provides an explanation for the anger.

When insecurity leads to jealousy, this can sometimes show up as extreme or mild anger. Much of the domestic violence, for example, results from jealousy.
Anger problems can result from a huge variety of causes, even adult attention deficit disorder can lead to issues with anger managment.
Okay, enough about the angry people...now let's talk about how you can deal with them so that you don't have to worry about them.



How Do You Deal With Angry People?


The first priority here is that you take care of yourself (and your children, if they are involved). If you live with an angry man or woman, it can be really hard to decide whether to leave or stay. Read on, and these tips will help you decide.
Assuming you or your children are not in physical danger, here are some things you can do:
Understand healthy boundaries--the bottom line here is that you need to love and care for yourself. Learn to believe that you deserve respect and to be treated well, so you will not unconsciously allow others to abuse you. You are your own top priority. You're #1 on your list. When you take care of yourself, you have a lot more to offer others--so it's not selfish in a bad way.
Develop healthy anger--this is the "emotional backbone" that you're going to need to deal with angry people. You can do this! 

Healthy anger

 is like the power and energy of the mother lifting the car off of her son--the child under the car is your inner child, and you are fiercely determined to protect that child with your healthy anger!


When it comes to the actual part about what to do and say, there are some very powerful tools you can learn and use any time you need them. There is a whole set of conflict resolution skills that you can learn, practice and master that will help you tremendously.
You've got to get the nonverbal communication skills right, or nothing else will work! The main thing here is to focus on your good heart and the best of who you are. Think of your positive intention to make things better--that is why you want to deal with angry people anyway, right? Then, if you can, focus on the goodness in the hearts of the angry people too--it's there, I guarantee you. Being angry doesn't make you bad.
Make sure you're seeing clearly and thinking with your whole brain. That means you're not governed by your own anger, or your fear. Those emotions can actually make us less intelligent in extreme cases. When you're seeing clearly and thinking with your whole brain, you'll be looking at your own responsibility in the situation, and not seeing yourself as the victim. You will also be able to have some compassion for the angry man or woman you're dealing with, which will make you much more effective in dealing with them!
You know what? You can do this! How do I know? Because I don't think you would be on this site or at this point on this page if you didn't have a good heart and a strong desire for things to be better.
Learn now about 5 ways to deal with angry people from Psychology Today.
Be sure and get your copy of our Healthy Anger audio program, which is yours risk-free, thanks to our guarantee!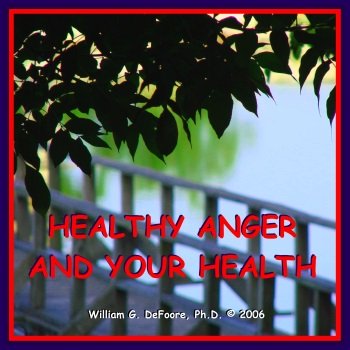 Have A Great Story Or Question
About Anger Management?


Whether it's shocking, funny or infuriating, we'd like to hear your stories and questions about anger management.

You have questions or stories to tell, or you wouldn't be on this site. If you'd like some help, you can get help here. You may feel helped just by writing!

Also, other visitors might be able to help with their comments, stories and questions. Sometimes I (Dr. DeFoore here) offer comments, and I try to answer most of the questions.

Feel free to also review our FAQ page (frequently asked questions), to see if your question has already been answered.
Other Visitors' Stories And Questions
Click below to see contributions from other visitors to this page...