Anger, Love And Forgiveness
Let Go Of Resentment And Return To Love
---
Anger, love and forgiveness touch everyone's life at some point. It's easy to get angry, and if you're lucky it's easy to love. But it is not always easy to forgive.
You can learn to understand and release your anger and resentment, and that's how you let go and experience total forgiveness. You will discover how love and forgiveness can heal you and resolve your anger so that you can be the happy person you've always wanted to be.
---
Where Does The Love Fit In?
We all need to love and be loved, and it's been that way since we were born. But love is never perfect, so we all get hurt one way or another, and then we get afraid of that hurt coming again. One of the ways we protect ourselves is with anger, because anger feels like a stronger emotion than fear. And then we act on our anger, and find ourselves in need of love and forgiveness.
It's no suprrise that you get angry when you're hurt. It's a natural, instinctive reaction to pain. So anger is not a bad emotion, you just don't want it to last too long or cause you to hurt the ones you love. But unfortunately, that is exactly who we usually end up hurting.
I think you can see how love and forgiveness are connected through anger, and why we need forgiveness to get us back to the love we started with. And it's total forgiveness you want, not partial. Partial forgiveness is like being partially pregnant--there's no such thing.
Total forgiveness means letting go of anger and resentment once and for all. Please understand that forgiveness is for you, not for the person you're forgiving.
While anger and forgiveness are very different, there are some ways that anger and forgiveness are the same. Let's find out some more about that, and what you can do about it.
Check out this slide presentation that I did on love, anger and forgiveness at the National Wellness Conference:


How Are Anger Love and Forgiveness Alike?
When your anger is unhealthy, part of what you're doing in your head is judging others, and putting yourself in a "one up" position over the person you're mad at. Ironically, you're also dishonoring yourself, because you're taking the position of victim in the situation, perhaps even feeling a sense of helplessness, which fuels your anger.
This is sometimes called the "blame game" where you are so busy pointing the finger at someone else that you fail to see your own freedom and responsibiility in the situation.
How is that similar to forgiveness? You know how easy it is to say "I already forgave him." Those are just words, but since they're the "right" words to say, a lot of people say them too quickly, before they're really ready to forgive.
This type of forgiveness is dishonest, and it comes from a "one-up" position--you have to see yourself as above the other person to think you need to forgive them. When you forgive before you're ready, you dishonor your true feelings, and resentment builds. You're not really speaking your truth.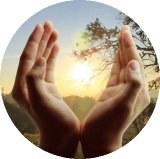 Total love and forgiveness doesn't come until you have worked through your anger, and you're physically and emotionally ready to let go.
Here are some points to consider about who's responsible for what:
The other person (that you're mad at) is responsible for what they did, but they're not responsible for how you feel.
You are responsible for how you feel and what you do with those feelings. In other words, if you get depressed, or explode in anger, that's on you, not the other person.
Both healthy anger and total forgiveness involve the power of healthy release and letting go, which takes you out of the victim position. This can only occur in a container of love and forgiveness. Anger can only be healthy when accompanied by some degree of wisdom and love, and the five stages of forgiveness can only be completed when they are based on love for yourself and/or another person.
Learn more right now--
preview this CD program
:



LOVE, ANGER AND FORGIVENESS:
Creating Joy and Healing in All of Your Relationships
reg. $29.99 Now only $27.95
(Special discount pricing currently in effect)

Discover and learn to make the powerful journey from anger through forgiveness and back to love. Love is who you are at the core of your being, and there is always a deep yearning within you to return to your true nature. These unique and dynamic anger management CDs will guide you along this journey, helping you to understand the essence of love, anger and forgiveness in all of your relationships. The information provided in this program offers the keys to emotional freedom, allowing you to be the wonderful person you choose to be!
| | |
| --- | --- |
| | |
---
What Are The Five Stages Of Forgiveness?
Develop a clear understanding of the wrongdoing or harm that was done to you and who is reponsible. Be aware that the love and forgiveness you are looking for will also depend on you recognizing your own responsibility for what happened.


Identify and acknowledge all of your feelings in response to what happened, including pain, fear and anger primarily. Writing about these feelings can be extremely helpful for emotional healing.


Talk through these feelings with a trusted confidant--a good friend or trusted counselor.


Fully release all negative emotions, including anger, fear and sorrow. You must give full, complete and healthy expression to your anger to arrive at love and forgiveness.


Choose joy, peace and well being for yourself. Learn about Goodfinding and the power of optimism for creating and maintaining lasting health and happiness.
---
Keep in mind that the five stages of forgiveness may require a lot of time, counseling and emotional healing. Each of the above stages might take as much as a few weeks or months each, depending on the depth of emotional pain that has been experienced. Just keep the faith, and know that you can find peace, love and forgiveness again!
Return to anger management seminars
Do You Have A Story
About Forgiveness?
Forgiving is something you do for yourself. The other person may or may not benefit, that's up to them. Tell your story here for your own benefit, and you might end up helping someone else also. Even if you're having trouble forgiving we want to hear your story!


What Other Visitors Have Said
Click below to see contributions from other visitors to this page...