Now Available! Dr. DeFoore's New Book GOODFINDING
Quotes On Forgiveness
And Letting Go Of Anger

Authored by William G. DeFoore, Ph.D.


These quotes on forgiveness will help you let go of your anger and return to love and/or peace of mind. You will also find links taking you to helpful articles, CDs and books to help with letting go of anger and resentment.
Here's a great video that shows a powerful forgiveness exercise that really works: 

The first two sections of quotations are written by Dr. DeFoore, drawn from his 40+ years of professional experience and 60+ years of life experience.
You will also find forgiveness quotes and many other important topics in his books and audio CD programs. Following that, you will find a growing list of quotes on forgiveness by others.


Quotes On Forgiveness & Letting Go
By William DeFoore



"Forgiving is all about letting go--of anger, resentment, sorrow and the victim feeling."
"Forgiveness is more than a decision. It only happens when your heart and head agree that it is time to let go."
"When you forgive, your whole body lets go with a sigh of relief. This increases your relaxation, lowers your stress and enhances your immune function."
"One of the main benefits of forgiveness is that it allows you to return to the kind person you really are."
"Sometimes, forgiveness means accepting the humanity of the person you're trying to forgive. Being human means to have choices, which means as humans we can choose to be wonderful and magnificent, or we can choose to be cruel, horrific and 'inhuman.' So, your words to this person (spoken in your mind) would be, 'I accept you as a human being with the freedom to make choices, just like me. I don't like your choices, but I won't hurt myself by continuing to condemn you. I accept your humanness, and I give you my permission to be exactly who and what you are.'"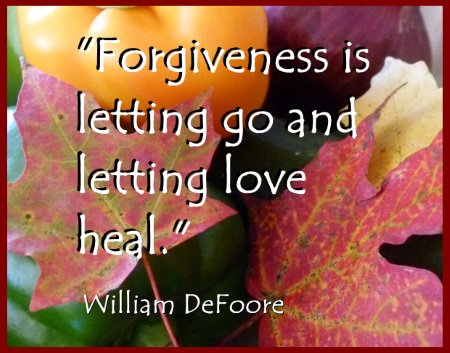 Quotes On Forgiveness, Love, Anger and Healing
By William DeFoore



"It all begins with the need to love and be loved. This makes you vulnerable, easily hurt, afraid and angry--that's where forgiveness comes in."
"Anger and resentment take you away from love. Forgiveness is a return to love."
"Anger and forgiveness seem opposite, and yet in many ways they are very similar."
"Healthy anger and true forgiveness enhance personal power and increase the capacity for love."
"Conditional love is not love, and partial forgiveness is not forgiveness."
Forgiveness Quotes From Others


There are many wise and wonderful people in this world, and many of them have shared their wisdom in the form of great quotes. Here are a few--and please feel free to send in your own forgiveness quotes!
"When you hold resentment toward another, you are bound to that person or condition by an emotional link that is stronger than steel. Forgiveness is the only way to dissolve that link and get free."
Catherine Ponder
"To forgive is the highest, most beautiful form of love. In return, you will receive untold peace and happiness."
Robert Muller
"Always forgive your enemies - nothing annoys them so much."
Oscar Wilde
"To forgive is to set a prisoner free and discover that the prisoner was you."
Lewis B. Smedes
Thank you for joining us on this page! And many blessings to you in your journey to forgiveness. I hope these quotes on forgiveness are helpful to you and your family. 

Do You Have A Story
About Forgiveness?
Forgiving is something you do for yourself. The other person may or may not benefit, that's up to them. Tell your story here for your own benefit, and you might end up helping someone else also. Even if you're having trouble forgiving we want to hear your story!


What Other Visitors Have Said
Click below to see contributions from other visitors to this page...