I Want To Control My Anger Around My Highly Sensitive Child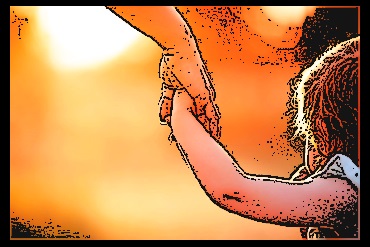 This feels a little scary, but I am going to try to share my story here. I have two girls, almost 5 and almost 2, who I love more than anything in this world. I have a great, fulfilling job that is sometimes demanding and stressful but flexible, and allows me a lot of time with the kids.

I have a loving and supporting husband who is also a great friend. We are doing fine financially, I usually have enough time to exercise and occasionally do things for myself (like go get a massage or go to a yoga class, or go out with a friend to dinner).


But, occasionally, not all the time, not even every week, but still, my anger boils over.

My 2 daughters are very different. The oldest is extremely loving, bright, curious, cautious, and very, very sensitive. The younger one is very emotionally stable (we can already tell with her), a bit of a daredevil, loving but pretty mischievous.

We struggled a lot with the older one, who this post is about, when she was 2-3, and though those struggles have improved, she still melts down occasionally, and when she does, it is very difficult to help her figure out how to self-regulate.

When she was 2-3, she would have at least 1 major meltdown a day, and they would last (in total) anywhere from 15 minutes to well over an hour (though almost never at school, only at home). Just about every day.

We struggled hard to manage and prevent the triggers, but there were so many things that would trigger her that we were just often left trying to cope/manage.

Now that she is more verbal and has a better understanding of time, it's a lot better, but even still, we have to put a lot of energy into preparing her for new situations and coping with crying fits that still last a long time. I fear that my reserve for coping with these continued fits is finite and waning.



Tonight she was so helpful, from the time I picked her up at school until bedtime; sweet, cooperative, talkative, although tired. She was great up until bedtime, when I didn't lay the blanket on her precisely the way she wanted, and when I suggested that it was fine the way it was, she started melting down.
I think she gets more upset thinking that we (me in particular) are upset with her, which causes her to meltdown further, so I try to be cognizant of that and reassure her that we aren't mad. Only tonight, after a few attempts of doing that, my reserve wore thin and I just lost it.
I told her I needed to leave the room to calm down (which was good), but after a few minutes of listening to her wail, I went in to try to soothe her again, which only made me more angry. In those moments she is always asking me to take deep breaths with her, or asks me to sing "Kumbaya," which doesn't really slow down the meltdown but I know she finds comfort that I am trying to soothe her.
The situation escalated to the point where I was hugging her too tightly, furiously whispering in her ear to "STOP CRYING." Finally, my husband came to check on us and "tapped me out," which was helpful. I went and took a shower and calmed down and then finally finished bedtime successfully.
Reading what I just wrote makes me feel a couple of ways... firstly, why did I get SO MAD at her? What did she do that was so awful? I let bedtime linger on, and it was late, and I just wanted a smooth transition out so I could get some work done, and so I clearly resented her meltdown for that reason.
How selfish, short-sighted, and immature of me. Secondly, I resorted to squeezing her and telling her to stop crying in such an insensitive way... how awful of me and how scary for her. I am supposed to be the person she feels safest with, and that is how I treat her?
Thirdly, although these moments don't happen all the time, they do occasionally, and I NEVER want them to happen. I don't want to be physically rough with her in any way, and I want to avoid yelling at all costs. The one thing I have been very successful at is minding my actual words, but the rough-handling and yelling I have a long way to go on. How much damage have I already caused?
I am blessed with a highly sensitive child who genuinely cares about me and just about everyone else in this world, who already gives to the world her huge, filled heart. I don't want to be the one that tramples that great, big heart of hers.
But the crying over what sometimes seems like every little thing, just gets to be too much. It is so hard not to internalize it sometimes.
Bedtime is generally the time that is most wrought with potential problems - she can be fine all the way until the end and then act out, I think, as a way for keeping me there, getting my attention. I would appreciate any ideas you have. And, I hate to admit this, I would like some reassurance that my child will be okay, and that yes, I can break the cycle, somehow, some way.
Thank you for posting this service!