A Difference Of Priorities With Housekeeping
by Tamsin
(Cape town, South Africa)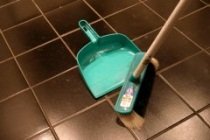 My fiancée, myself and my mother share a flat because none of us can afford our current standard of living on our own. My mother earns the most money out of the 3 of us but we each give all our earnings to the household every month.


The problem is that my mother is a perfectionist and a clean and neat freak. Her ideal home is the type of perfectly clean, spotless and ordered home you would find in a glossy magazine. We all work very long hours and hectic shifts as we all work from home as freelancers. This leaves limited time for relaxation and doing what we want to do or spending time together, especially as we all work an average of 7 days per week. This also leaves limited time for cleaning.

We do have a maid that cleans our home every Thursday. We also have 4 cats, a large tank with 4 tropical fish, a hamster and we will soon be adopting 2 guinea pigs. All of this means that our lives are hectic but we love our animals like they are our children so getting rid of them is not an option.

My mother's idea of what is clean, neat and acceptable is different to the ideas my fiancée and I have. We don't mind a few things out of place but my mom freaks out about it, even if it is in our room. We don't mind rinsing the dinner dishes and only washing them up mid morning the next day but my mom wants the dishes done the moment we are done eating. This difference of priorities and opinions creates a reasonable amount of friction between my mom and us.

Currently I am on Prozac for the treatment of stress and depression and I have a hot temper and a very short fuse. My mother is on Prozac for the treatment of acute stress, has an even hotter temper and a shorter fuse and does say what is on her mind regardless of whether it is hurtful or not. My mother is on a dosage of 20mg daily and I am on a dosage of 40mg daily. The medication helps me to curb my overly emotional reactions to things but I need to learn anger management and stress management techniques that really work in order to effectively control my recurring depression and stress in the long term.

I cannot afford to consult a private psychologist for help and treatment and the government medical system does not provide me with the necessary help. Please, if there is any advice, tips, techniques or more that anyone can provide that really work I would appreciate hearing from you. Moving out is not an option and I need to learn how to cope with, accept and process the constant criticism from my mother in a way that is not harmful to my own health and does not leave me feeling like a complete failure.




Response from Dr. DeFoore

Hello Tamsin, and thanks for telling your story here. It sounds like you are very clear about your issues, and what you want.

I suggest that you (and ideally your mother as well) use the anger management tools described on this FAQ page. These are very thorough exercises, and they will help you if you use them diligently.

You might also find it helpful to review the following page on relationships:

relationship advice

And take a look at our FAQ page, where you'll find help with letting go of parents.

I hope you find this helpful.

My very best to you,

Dr. DeFoore

P.S. If you found this to be helpful, please consider making a donation to this site to support our mission to help you become your own best anger management resource.