My Grandson Has Anger Problems
by Michael
(Milton, FL)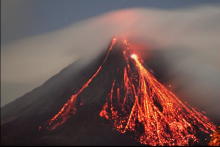 My 6 year old grandson has a severe anger problem. A very minimum issue will set him off into a tantrum.


He can behave very well when around his grandmother and me but when around other kids (especially babies) he gets irritated very easily. One fact, when he was under 3 years of age he used to bang his head when he became angry.

He has had a lot of trouble in school, although he is very smart in some ways. He is very interested in planets, volcanoes, hurricanes, weather patterns and such, but as far as normal school activities go he is uninterested.

His parents are divorced and spend shared time with him. My daughter is the sole supporter and tries to help him, but I am not sure what measures she has taken to correct the problem. His dad does nothing to help.

Response from Dr. DeFoore

Hello Michael, and thanks for telling your story here. It is great that you care so much about your grandson's well being.

One thought to consider is that as difficult as it may be, grandparents must not override the authority of parents, except in cases of life-threatening circumstances. I know it is painful to you see your precious grandson struggling, but if you bypass his mother and try to intervene, you could actually make his circumstances worse.

You said you're not sure what your daughter has done to correct the problem, which seems to indicate that you and she are not communicating well about your grandson's issues. Talk to her, and find out what she has done, what her thoughts and plans are, and support all of her efforts.

With that in mind, here are some resources for you, your wife and daughter to use in helping your grandson:

This child anger management page tells what to say, what to do and what to have the child do, step by step.

Love is partly about letting go, Michael. That may be part of your process here, letting go of your grandson, supporting your daughter and doing your best when you're actually with your grandson.

I'm sure you will make good choices.

My very best to you,

Dr. DeFoore

P.S. If you found this to be helpful, please consider making a donation to this site to support our mission to help you become your own best anger management resource.

P.P.S. If you got something of value here, we would also greatly appreciate it if you would click the "Like" button at the top left corner of this page.