My 20 Year Old Son Is Very Disrespectful
by Sonia
(Dallas Tx)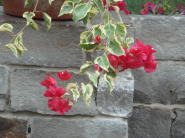 My son is 20 years old. He left a prestigious college in his 5th semester and came home.

He gets angry easily, breaks things and tears his clothes, but does not hit anyone. He does not tell us why he left school and his fraternity, only that he does not have friends there. He says he is ashamed of his father's job, which is manager of a fast food store.

He calls us names and says f___ you and all women are b____ and so on.

We bought him a truck. He wants to go to California to get a job and find a way back to school. But he does not know how he is going to pay for his way.

It seems he has many dreams but no action. He says he has no motivation, but he is extremely smart. I forgive him a lot and it seems he is slightly better with me now but dislikes his father's eating, dressing up, berating pattern.


His father is not abusive in any way, and has never raised a hand to him. His father is very kind, with no questions asked. Does not advise him or communicate on issues with him and has a poor listening habit.

What am I to do? Let him go, or keep on and try to find out what happened? He says he does not have ADHD, and is not bipolar, and does not have severe anxiety disorder or severe depression, just situational anxiety. What am I to do?

Response from Dr. DeFoore

Hello Sonia, and thanks for telling your story on this site. I will try to help you figure out what to do about your relationship with your son.

He will either tell you about what happened, or he won't. That's totally up to him, and there isn't anything you can do to speed up the process. The more you relax and let go, the more likely he will be to open up with you.

It is not uncommon for these types of problems to develop with young adults like your son living at home after having some kind of difficulty out in the world. It is very important, however, that you give him a clear message about what is acceptable in your home.

He is being abusive to you (the language you referred to), and you're not doing him any favors by allowing that behavior. And he is not respecting the hard work of his father by judging his type of employment.

You and your husband need to get together and find a way to communicate to him that he cannot stay in your home and be abusive.

Without intending to, you may be spoiling your son. You mentioned that you bought him a truck. Is it possible that you're giving him the message that his abusive, irresponsible behavior is acceptable by rewarding him with the gift of a truck?

Letting go is often the most loving thing you can do. But do not let go of control of your home. Your son has his own journey, and he has to figure things out for himself. You can't do that for him. Your job is to maintain order and respect in your home, and it is important that you take full responsibility for that.

He needs to move out and support himself, as soon as it is possible. This will be good for him, and for your own household. He will not respect himself or you as long as the current situation continues.

Talk to your husband and come up with a plan that you both feel good about. You will do the right thing.

My very best to you,

Dr. DeFoore

P.S. If you found this to be helpful, please consider making a donation to this site to support our mission.

P.P.S. If you got something of value here, We would also greatly appreciate it if you would provide a written testimonial about the site, Dr. DeFoore's help, or one of our products.