Anger Took Over
by Anonymous
(Branson, MO)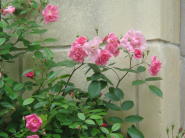 I am truly in love with a wonderful man, a man who is caring and loving. But I have a problem with picking fights with him for no reason, or for reasons that are so small and so stupid that its pointless to be an argument.


The other night I pushed it too far. I didn't pick my battles. And now he's gone. He left me, and it's killing me. I feel I need to do something. I need to fix what I have done. I don't know what to do next from here. My anger and frustration have cost me the love of my life.



Response from Dr. DeFoore

Hello, and thanks for telling your story here. You are smart to ask for help. You apparently realize that you have an anger problem, and because you are a good person, you want to heal that. I encourage you to focus on fixing your anger problem first, then when you've made some significant progress there, consider whether you need to get back together with your man.

You have to decide to heal for yourself, not because you "want him back." If you try to get him back, it will probably only bring more heartache, either because (1) he won't come back, or (2) because if he does come back you will probably do the same things to drive him away. That's why you need to take care of the anger problem.

So, with that in mind, I suggest you try these steps to heal your anger:

1) Practice these anger management techniques until you can move through them all very smoothly.

2) Read this page and then start your journaling process for healing any past issues you may have. The kind of anger you describe doesn't come out of thin air. You have reasons for your anger, and you need to examine those causes.

Keep writing on this site, if you like. Set your mind to this, and you'll get the results you want.

My best,

Dr. DeFoore

P.S. If you found this to be helpful, please consider making a donation to this site to support our mission to help you become your own best anger management resource.

P.P.S. If you got something of value here, we would also greatly appreciate it if you would click the "Like" button at the top left corner of this page.