Should I Be Trying To Fix This Marriage?
by Misty
(Oklahoma)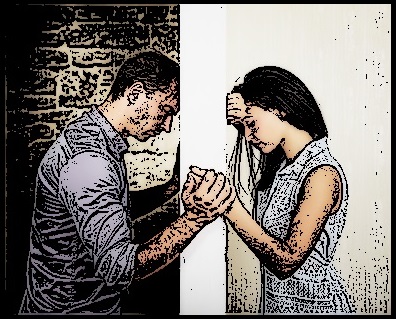 I have been married for 7 years and we have 3 children in the household. We used to have a good relationship. He was very sweet, kind, loving, he gave me a lot of attention and was the type to surprise me with gifts, very good to the kids. He really was a good man.

Now he just seems annoyed by me, he tells me to shut up, he doesn't make any effort to spend time with me, he works long hours and we don't see each other much. When he gets friends, guy friends, it's like that's all that matters to him.....to the point of me wondering if he's in the closet.

He has also contacted an ex a few times confessing his feelings for her, he says that his feelings for me are much different and he doesn't know why he has contacted her. I also found out he had been looking at dirty Craigslist personal ads, which he claims to have never done anything about. He has also been spending a lot more money than usual, money that we should not be spending.

I even wondered if he was cheating, but haven't come up with real evidence of actual physical cheating. He doesn't help me with the things that he used to and he has told me when I get upset that it just irritates him.

He also tells me he wants to work out this marriage and that he loves me, he just doesn't feel the same love he used to feel for me....but he wants to be with me. My problems are jealousy issues, I don't trust him, I am now insecure, I feel neglected, when I get upset I get really emotional, like on the verge of not being able to control it. The same when I am angry, and that's not me normally.
I am confused because he tells me he feels one way, but acts another way....I don't know what to do. I love him and of course I want my marriage to work. My first marriage was very abusive and I am not sure if I even know if I am being abused if that makes sense.
I just want to do what is best for me and my kids and I want to be happy again. Does this sound like a relationship I should be trying to fix or should I just be walking away? I will add that I am in nursing school and have no income, which he points out all the time, and always tells me that I need him in order to pay bills and have a place to live.
I also don't know how to keep myself together if we do split, it is going to destroy me mentally and I know it is. Only because I have been through so much in my life already.