PTSD That Won't Let Me Live
by Alyssa
(Lakeland, FL, United States)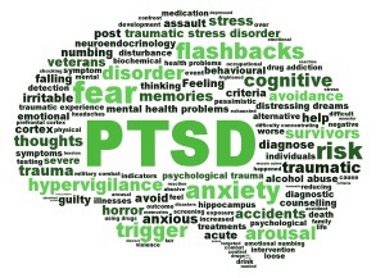 The first thing I remember really vividly is the first time I met Kerry. I was five years old and we walked into the church building where my dad had just taken a job preaching.

I walked up to a group of kids about my age who were playing and talking. Kerry and her friend Mara were in the group. I walked up to them to say hi and Kerry grabbed Mara's wrist and dragged her into a classroom. I followed, but Kerry blocked my way. She said "She's mine. You can't play with her" and then slammed the door in my face.

Most of the rest of my childhood is a blur. I'll write out what I can remember in incidents because I have no idea what order they came in. Keep in mind that all of these incidents happened when I was between the ages of five and nine years old.

I was like her doll and her stress toy. Whenever she wanted me to do something, she would look into my eyes and sneer. She would say "You are fat, and ugly, and stupid and no one is ever going to want to be your friend except me. So you better do what I tell you."

The grossest thing I can remember her making me do was at the church building. She said she had always wanted to know what pee and poop tasted like. So obviously she made me try it first. She took me into a stall of the bathroom and made me eat her poop and drink her pee and then she did the same to mine. I remember her saying the pee wasn't bad, just really salty.

Another incident that I remember vividly was also at the church building. She said that she wanted to try French kissing. I had no idea what it meant so I just said "okay." I ran up to Mom and asked her if it was okay if Kerry and I went to play outside. She said it was fine and Kerry grabbed my wrist and pulled me out the door. She dragged me behind this shed thing that was next to the church building and shoved me against the wall of it. I have a faint memory of her grabbing my neck, she used to do that when she was angry at me, but I'm not sure this time. My head hurt though because either way, she slammed me pretty hard into the wall. She pushed herself against me and I remember her tongue going into my mouth.

That's about it with that one. I remember her kissing me a couple times, but that was the only French kiss that I remember. I remember one time we were at her house for a sleep over or something and she tied my hands behind my back. She started touching me all over. I don't know why or what she was looking for, but she thought it was fun. Anyway, her mom knocked on the door. She pushed me in between her bed and the wall in a really narrow space. Her mom asked what we were doing and she told her "hide and seek," I think. I just laid there completely helpless until her mom left and Kerry could untie me.


I wanted to be just like her. I thought that the more we had in common, the better I would be and the less she would hurt me. I was wrong though. She would never stop until I stopped it. I remember so many nights that I spent wide awake, crying because I felt guilty and trapped and alone.
I was terrified that my parents would find out what was going on because I knew that whatever it was, it was wrong. I had no idea why though. I just knew that I was doing something bad and I couldn't tell anyone or do anything. I was terrified, trapped, and completely alone. I was afraid of the dark because I knew that every night I would feel the same way. Those are the only things that I really vividly remember.
The rest are all blurred images that fade in and out when I think about the past. They will pop up in my head and then disappear and I can't remember them anymore. I don't want to anyway.
Eventually I told my parents.
My mom was pregnant with my youngest sister and announced her pregnancy to the congregation. That afternoon, Kerry and I were doing something in the bathroom again. I don't remember what, but she said "Hey, I hope the baby is a boy. I want to play fun games with him too."
I lost it that night. I told my parents what was going on. The last thing I wanted was to get anyone else involved in what was happening let alone an innocent baby that wasn't even born yet. I broke down in front of them. I remember Mom crying and Dad leaving, but that's all.
From that point on, I felt like the only way that Mom would forgive me was if I told her every little thing. I don't know why I thought that, but I did. So I hounded my poor mother with every detail of everything that happened over four years of bullying and abuse. Eventually she couldn't take it anymore and I remember the words "Please stop talking. I can't listen to you anymore. Go watch TV with your sister."
Now, I don't know if she actually said them. Honestly, it doesn't sound like my mother at all. She has always been very kind and understanding, but that's what happened in my mind. So I shut down. Whenever I started feeling overwhelmed, I would bite the inside of my lip until it bled. The pain would calm me down. It still does. Of course, now I realize that it's self-harm, but it's a habit formed over about 10 years. So it's a pain to break.
We moved not long after that and life in Huntsville was pretty good. I learned really fast that I had no idea how to interact with people properly, but I made friends. I got a boyfriend who was not a terrible guy, but he was abusive verbally, at least.
He made demeaning comments all the time. He knew my weaknesses and tried to exploit them to get me, a 15 year old girl, to sleep with him. I did not. He used to squeeze my hand really hard when he was mad, but that was the worst he ever really did. He punched me in the arm pretending to be joking once when he wasn't. As far as that relationship is concerned, I consider myself lucky though. We were young, and I got out pretty quickly.
Everything got worse when we moved to Florida. We moved when I was 15 and it was the worst possible time in the church high school group. The two main girls had recently had a falling out. One of them was my cousin and the other was my cousin's ex-best friend. The only memory that I had of my cousin Cori goes like this.
We went on a trip with my grandparents alone to Washington D.C. On the way there, she said to me. "I wish you weren't here so I could have Grandma and Grandpa all to myself without you." She proceeded to do every mean thing that she could figure out to do to me the whole rest of the trip. Somehow, she even gave me lice. I'm sure that wasn't on purpose, but in my nine year old mind, the coincidence was hard to believe.
So needless to say, Cori and I did not get along, but her ex-best friend didn't know that. So both groups automatically hated me. I am not exaggerating when I say that the whole high school group acted like I was invisible. When we moved there, the only people who spoke to me were the adults and one of the middle school kids who liked my sister and wanted to become friends with me to get closer to her. Oddly enough, we're still friends.
But anyway, that lasted for six months until one of the other high school girls who was the odd one out decided to talk to me. Hannah is a sweet girl in all honesty, but back then she had to be the best at everything for our friendship to work. She had to be the smartest, the prettiest, the most talented, and the best at overall everything and she let me know about it. Looking back on it, it felt like our entire relationship was a competition that I didn't know was happening, but we needed each other, so it worked.
We changed churches eventually because it was toxic. The new church was not really better. It was filled with smiling, friendly faces who pretended to care about me, but did not. They did not care about me or my life at all. They had their established group of friends already and they did not need or want me or Hannah to be a part of it.
Things got really bad for me in high school. I realized that I believed what Kerry had always told me. "I am stupid, fat, and ugly and no one wanted to be my friend." Hannah said the same things to me, just more subtly and to make herself feel better. That was when I started walking into the middle of the street and hoping cars would run me over. They never did.
Then Mark killed himself. I had a class in my dual-enrollment college with a guy named Mark who loved guns. We would sit and talk about things. We talked about his problems and my problems. We talked about why I needed to learn how to shoot a gun for my own safety. Then he took his own life with one. I haven't been the same after that. I decided that I would never kill myself, but I started cutting not super long after that which I haven't really stopped. I do it less frequently, but still it happens.
All of the drama that is college is different. It's drama that I can handle. Things got worse when I started talking to people about all of my past stuff, but it all came from here. This is my trauma and my life. I want to stop thinking about it and let it go, but I don't know how.