Now Available! Dr. DeFoore's New Book GOODFINDING
Anger As A Single Mother
by Macey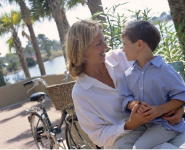 I am a single parent. There are moments when I'm parenting that stress can really hit me hard. It's hard to manage two kids by myself and sometimes I just want to lock myself in my room and scream!

I love my kids so much but sometimes it's really hard to control my stress. My kids know when I'm angry, because they will stop and ask me 'what's wrong'. They will usually ask me this if they notice I'm talking louder or if I'm hollering at them for every little thing they do wrong. Sometimes they may see me banging pots and pans in the drawers while I'm cooking.


I do this to release my anger and sometimes it works. There are moments when I get like this and the kids stay away from me. But there are some moments they join in with me. They grab some pots and pans and bang them together right along with me!

Whenever they do this, it actually puts a smile on my face. My kids love me so much that they will do anything to make me happy, even when I'm angry and stress! Being a single mother is hard, but with the help of my kids, they can at times help me manage my anger.



Response from Dr. DeFoore

Great story! This points out how much children naturally love their parents and want them to be well and happy. Children can be very wise, as this mother's story shows.

I so respect your wisdom, Macey. I think your story as published here will help a lot of other parents who are trying to do the best they can at one of the most challenging jobs in the world. Your humility and willingness to learn from your children speaks to the integrity of your spirit and the quality of the kind of person you are.

All my best to you,

Dr. DeFoore

P.S. If you found this to be helpful, please consider making a donation to this site to support our mission to help you become your own best anger management resource.

P.P.S. If you got something of value here, we would also greatly appreciate it if you would click the "Like" button at the top left corner of this page.