April 15, 2017
Healing Anger Newsletter, Issue #107



Contents Of This Newsletter
(In case these links don't work on your mobile device,
click here to read the newsletter on the web
with full functionality)
How Do You Get Stuck In Anger?
Anger is like a town you have to pass through to get to where you want to be. You just don't want to stay too long in that particular "town."
But like that town on your route, you really do need to go through your anger sometimes, to get to those feelings of satisfaction you want. The problem is, you can sometimes get stuck in the "town" of anger...and it's just not a pleasant place to be for too long.
Here's how your journey might look:
There's something you don't like, and you want it to be different. So you start your journey to that better feeling of satisfaction and contentment.


When you're faced with things you don't like, feelings of helplessness can often come up, and those feelings are just absolutely unbearable...this is where anger comes in...or where you come into anger town.


As soon as you start feeling some anger, you feel a little (or a lot) more powerful, and not so helpless, which gives you some relief.


Since the feeling of anger gives you a sense of power and some relief from the other feelings you were having, you can make the mistake of seeing the anger as a type of solution...but remember, it's a town on your way to where you want to be, it's not your destination.
Stay too long in "anger town," and you'll start having serious problems. It's bad for your health and relationships.
This newsletter is designed to help you get unstuck from anger, or to get you a ride out of "anger town" if you've gotten stuck there.
The vehicle you will use to get unstuck and back on the road is your brilliant mind and your good heart.
"Everybody's on the road to happiness and contentment. Most people don't realize that they're in the driver's seat and deciding moment by moment where they're going."
William DeFoore
Your body/mind is your vehicle, and it's a real good idea to keep it tuned and in good working order. In other words, keep in mind that your health is key to your happiness...so exercise regularly!
Now let's look at the road map, and some of the important landmarks along the way to what you want.
Getting yourself confident and optimistic when you've been stranded in anger town a little too long can be very challenging. We can all use some help and support from others to get back on track and stay on track. That's why we created the Goodfinding Community Online page.
Here are some of the travel tips you'll need for your journey.
What Is The Road Map To Contentment?
First, you'll need to set your destination clearly, so you know for sure where you're going. Make it very clear in your mind that you want to feel resolved, content and satisfied regarding whatever issues have been bothering you.
Make sure you've got some fuel in your tank...not just good food (as important as that is), but some good fuel in your "mental diet."
Here are some necessary travel tips for your journey to feeling great:
Set your GPS for a win-win outcome, so that everybody concerned gets some kind of benefit. If you want somebody to lose or suffer, you'll be stuck in anger town for a long time.


Appreciate all of the beauty along the way on your trip. Pay attention to what is good, right and working about your body/mind vehicle and all of the trees, flowers and fellow travelers on your route. Gratitude and appreciation are powerful forms of fuel for your mental diet.


Now, turbo-charge your fuel tank with some optimism about the positive destination ahead of you.


Think about, imagine and feel all of the positive benefits that lie ahead of you as you approach the land of contentment and satisfaction.
You are indeed the driver of your own vehicle, whether you know it or not. If you feel out of control, that just means you've given your insecurities the freedom to drive your vehicle.
Our entire anger management web site is designed to get you back in the driver's seat when your vehicle has been hijacked by your negative emotions.
You've got the tools and the fuel you need for your journey. Happy travels!
---
.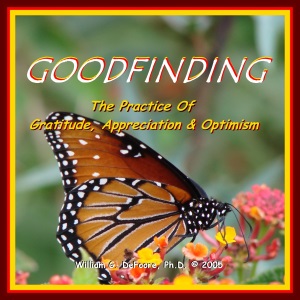 This highly effective audio program, available as a CD or MP3 download, will help you to access and utilize the incredible power of your positive mental focus, which will light your way to the happiness and well being you want.
Take advantage of the free previews when you click on the image above, and the no-risk return policy that guarantees your satisfaction.

Welcome To New Subscribers
The Healing Anger Newsletter brings you a refreshing, helpful and upbeat approach to anger management and how it can work for you in every aspect of your life. Here is your chance to keep up with my (Dr. DeFoore here) latest discoveries and insights on anger management and how you can heal the anger in yourself, your family, your school and your workplace.

If you like this ezine, please do a friend and me a big favor and "pay it forward" by forwarding it to them. If a friend did forward this to you and if you like what you read, please subscribe by visiting the Healing Anger Newsletter subscription page.

Back to Top of Page


What's New On The Web Site?

New web pages for you
. Read new contributions from good folks like you, such as
I'm Concerned I May Be In Danger
by a woman trying to assess how toxic her relationship is, and
Why Did My Husband Change After Becoming Ill?
by Donna, a woman trying to understand the changes in her husband after he became ill.

We Have A Mobile Site
. Please visit our site,
AngerManagementResource.com
using your smart phone
, and check out the mobile version of the site. I would really
appreciate your feedback
-- just look for your favorite information, and see if you find it easy to navigate. Then
let me know what you think
! Thanks in advance.

Check Out Our Facebook Page!
It gives you all of the latest updates from Dr. DeFoore and visitors like you. To follow us on Facebook, just go to
Anger Management Resource by Dr. William DeFoore
and click on "Like" at the top of the page -- or,
follow us on Twitter
!

New Web Site!
That's right, Dr. DeFoore (that's me) has created an all new web site that is all about helping you feel good about yourself and the world around you.
Visit goodfinding.com
and find lots of positive, upbeat perspectives to help you with your anger and every aspect of your life, and sign up for the
Goodfinding Newsletter
, and/or the
Daily Goodfinding Quotes
.
P.S. Why not make the rest of your life the best of your life? You can get started right now with Elegant Aging: Growing Deeper, Stronger and Wiser.
P.P.S. Did you know that I offer telephone (including Skype and Face Time video phone) counseling around the world? That's right, from the comfort of your home, you can get professional counseling from me, Dr. William DeFoore. Contact us now to schedule a session!


Back to Top of Page